TORONTO — With the weather cooling down across the country, the competition is only heating up in the CFL.
Week 12 kicks off with a battle between the top two teams in the East Division, the Toronto Argonauts and Montreal Alouettes, at Percival Molson Stadium.
A CFL tripleheader gets underway on Saturday, beginning in Hamilton as the Tiger-Cats play host to the Ottawa REDBLACKS. Things then move to Winnipeg where the Blue Bombers, who can clinch the West Division with a win, and BC Lions meet.
And finally, the week ends in Calgary as the Stampeders and Saskatchewan Roughriders meet for the third time in four weeks.
Buy Week 12 Tickets
» Friday, 7:30 p.m. ET: Toronto at Montreal
» Saturday, 4:00 p.m. ET: Ottawa at Hamilton
» Saturday, 7:00 p.m. ET: BC at Winnipeg
» Saturday, 9:45 p.m. ET: Saskatchewan at Calgary
WEEK 12 PLAYOFF SCENARIOS
SURGING STAMPS
BOATMEN SETTIN' SAIL
REMAINING SCHEDULES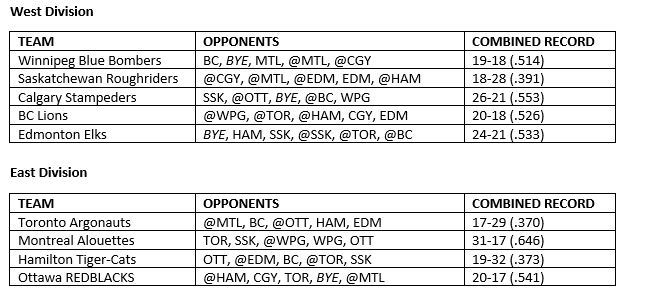 Get all the top stories from across the league delivered to your inbox.